Korozsa Pension
The pension is located next the railroad line at Kőrózsa stop. 30 rooms (2 and 3 bed), restaurant and wine-house wait the guests whole year.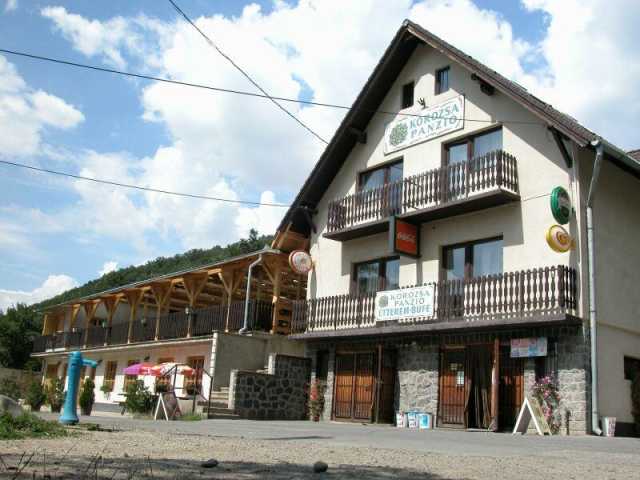 The Korozsa Pension lies at the northern foot of the Börzsöny Mountains, 1.5 km from Kemence. You can enjoy the undisturbed calm of the Börzsöny National park just 20 metres from our pension. The building includes a restaurant, vine cellar, 3 living rooms, slot machines and pool tables. Outside are table tennis and badminton facilities.
In the immediate vicinity are pools in summer and skiing and sledge courses in winter.
Riding is available 6.5 km away. Regardless of the time of year everyone has a choice of hiking and walking routes in the adventurous Börzsöny.
Those strolling quietly will often see deers, boars and even mufflons.
(If required we can provide guides.)
The old County Hall in Kemence is worth visiting. It used to be the most important meeting place of the lords of the Hont county in the 18th century. The church, country house and chapel are also worth a visit. Further away, Nagyborzsony (17 km) monuments, Ipolysag (7 km - Slovakia) shops and Gyugy (20 km - Slovakia).
The pension has 2, 3 and 4 bed rooms with bathrooms (shower, washbasin, toilet). Our restaurant serves "home-fare" not shown on the menu.
The Pongrácz family welcomes all guests.
More information, booking:
tel.: +36-27-365127
internet: http://www.hotels.hu/korozsa
| | |
| --- | --- |
| | Legutóbbi módosítás: 2009.01.09. 20:13 |