2009.03.15
Of its special vehicle fleet, loco 763-247, a 2C (4-6-0) wheel arrangement steam engine is still stored in operating condition. The loco was built in 1916 by Krauss in Munich and was in operation until the closure of the railway. Other steam locomotives in Comandaus locoshed are: 764-379 (0-8-0), built in 1951 at Reºiþa and another loco of the same class, 764-455 (1954, Reºiþa). The following locomotives are stored at Covasna shed: 764-001 (originally 764-401R) and 764-405R. They were built new in the 1980s in Reghin, copying the Reºiþa design. 764-405R is stored in operating condition. On 21 February 2002 she passed a boiler test.
At Covasna timber yard the normal gauge 0-6-0 steam locomotive N3-404 is still working. It was built by Borsig in 1909.
Photos about the vehicle fleet in the Galery.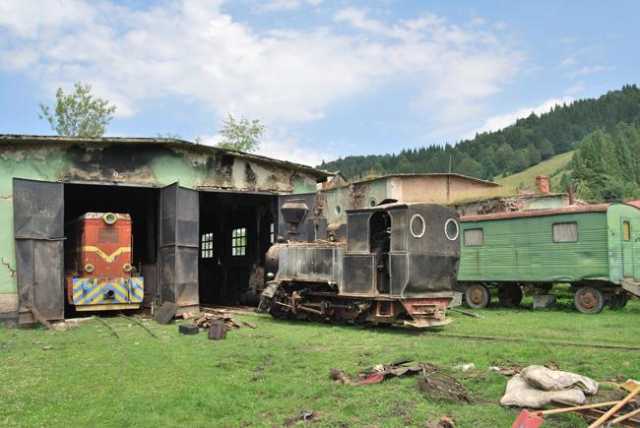 Fűtőházi csendélet a felújításra váró Krauss gőzössel, és a jó állapotú L45H dízelmozdonnyal
Fotó: Şerban Lacriţeanu (2010.07.31.)