Csömödér, forestry railway



The longest narrow gauge system in Hungary is situated near Csömödér, the total length of the system is 102.9 km. Passenger traffic is just on the 32 km long Lenti-Csömödér-Bázakerettye-Kistolmács route is avaliable. The most of the lines are used just for freight (wood) traffic. The area of the railway system is beatufil, you can find spas, museums, old churches and arboretums here.

Guide (Hungarian, English, Croatian, Slovenian, Slovakian) (pdf file)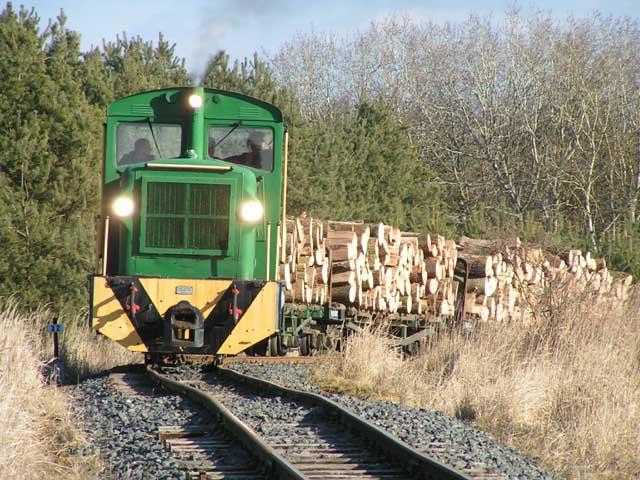 A tehervonat elhagyja a Csömödér-Lenti vonal egyik legnagyobb emelkedőjét, majd felérkezik a Nyúl-tetőre.
Fotó: Fodor Illés (2005.01.15.)
The landscape of Göcsej is famous for its forest railway that encompasses about the length of 109 km of the forests of Zala. It delivers significant amount of wood to Lenti and to the wood processing firms in Csömödér. By being connected to the MAV (Hungarian National Railways) trains they also deliver timber to many different locations.

By taking the passenger trains most attractions and excursion destinations can be easily reached.

Starting out from Lenti you can enjoy the forests of Zajda, the pond in Csömödér, the spa in Bázakerettye and the pond of Kistolmács is used for both swimming and angling.

The railway line is connected to many cycling and tourist pathways. So does the route called "Pal Rockenbauer Southern-Transdanubian Blue Tour" that runs between Szekszárd and Írottkõ and also passes through Bázakerettye. (Pal Rockenbauer was a great promoter of hiking in Hungary.)

The Oil Tour Route was named after Simon Papp who was the Managing Director of MAORT (Hungarian-American Oil shareholding Company). On this route you can visit the Chapel of Marok, the Castle of Szecsisziget, the hundreds year old church of Paka, the memorial of Professor Öveges (experimental physics television lecturer), the botanical gardens of Budafa, the aqua park, that can be found in the neighborhood of the forest railways in Lenti, consists of indoor and outdoor swimming pools.

At the final stop of the Forest Railway you can visit the exhibition called "Treasures of Göcsej, THE FOREST AND WOOD" that focuses forestry, sawmilling and history of railways.

| | |
| --- | --- |
| | Legutóbbi módosítás: 2009.04.20. 12:43 |